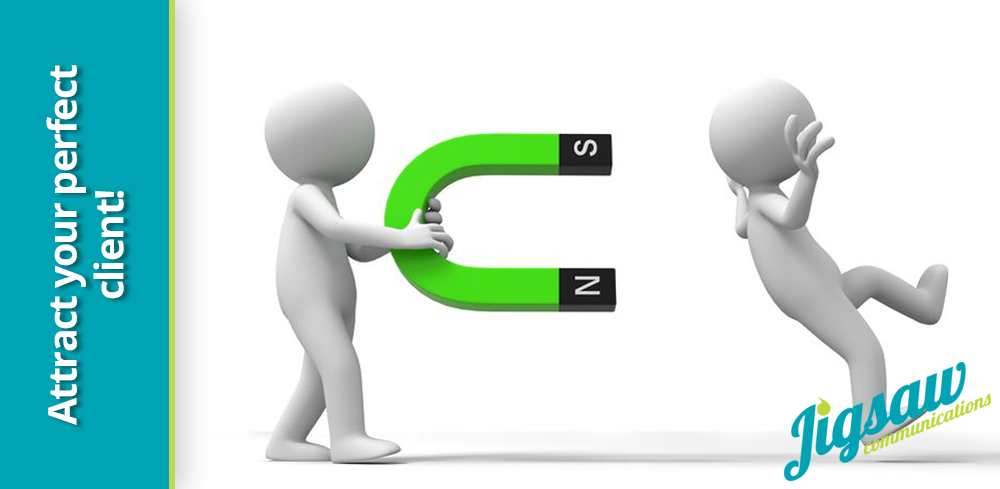 Do You Struggle to Attract Your Perfect Client?
 Have you ever worked with a dream client? One who you makes you think 'I wish all of my clients were like you'. Well guess what? Not every client is of equal stature; some are painfully difficult to work with. Sometimes communication is non-existent/you spend days chasing them for important information, other times they just 'don't get it' and on some occasions they're just rude and obnoxious.
We all want to work with friendly, open minded people wherever possible, so how can you increase your chances of finding the perfect client and securing that all important sale or contract?
Sharing is caring
Forming long lasting, healthy business relationships in order to promote growth and prosperity is, ultimately, at the heart of every business. In order to gain the 'perfect' client time and time again, you need to understand what your business stands for. Once you're clear about this, you will be able to attract the customers who are aligned with your brand's ethos.
OK, let's make this even simpler:
You need to reach out and let your brand's beliefs, values and character shine through like a bright beacon, just as you would when making new friends.
Getting this right will equip you with the tools to attract the perfect client because they'll be attracted to you too, after all, you both share the same beliefs and values – simple!
Strong character grabs attention
It's important to gain authority within your sector; character and authority go hand in hand. You can promote a strong character by sticking to your belief and values. You'll need to have integrity too – never falter on your values. This might all sound rather easy, but it does take time and dedication to build an unfalteringly good reputation. The results, however, will be worth tenfold.
Putting it into action
Firstly, review your business. What are its core beliefs and values? From here you can start to build the persona of your ideal client and understand who they are and what the best way to communicate with them is.
Ask yourself what tone your perfect client would be drawn to; loose and friendly or formal and professional? Think about the places they are likely to 'hang out'; this could be Facebook, YouTube, Instagram, Twitter, LinkedIn or Pinterest, for example. This will also tell you about the formats in which to produce your marketing content, i.e. blogs, articles, videos, photos, infographics etc.
Equipped with your strengthened set of beliefs and core values, you'll be able to portray your personality across all of the marketing you produce and you'll attract the perfect clients.
The missing piece of the jigsaw
Don't worry if this all sounds a little daunting because we run brand review days for clients of all sizes with the aim of taking the stress away from analysing something so close to you. Oftentimes it becomes all too much to evaluate how your own business portrays itself.
Once your brand has been revised we can then build your Audience Personas. This includes researching photos of your perfect client and working through your biggest 'pain point' in order to work out the best way to communicate with them.
Equipped with the knowledge required to effectively connect with your perfect client, we can build a successful marketing campaign packed full of carefully created content in order to generate those all-important online conversations, which lead to positive sales.
For more information on attracting the perfect client, building successful marketing campaigns, plus much, much more, sign up to our newsletter at the bottom of our page, or give us a call on 01480 459087.