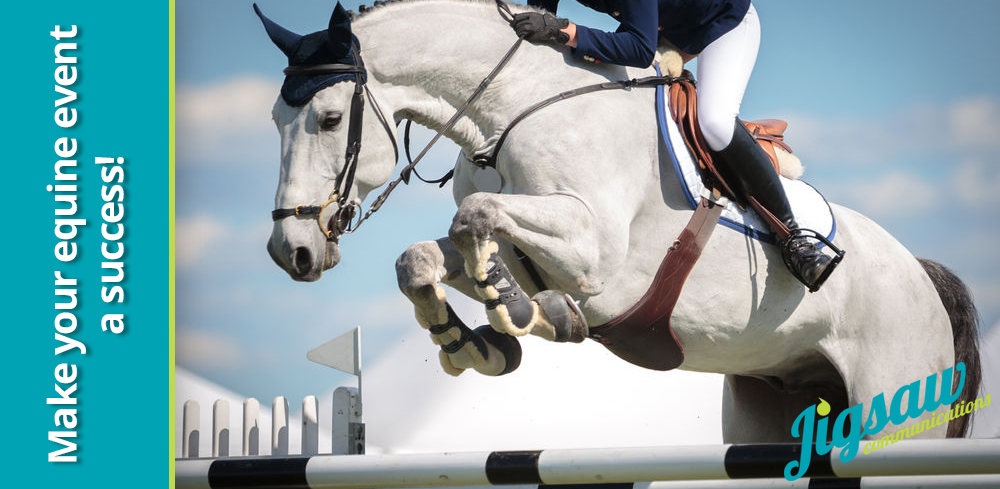 I've attended many Horse Shows over the summer, some of them busier than others. Which made me think about writing this post. Equine events are no different to any other events, it's all in the planning and understanding your audience. I hope you enjoy it…
So, you're arranging your first ever show jumping event – great news! Perhaps you've booked an international horse trainer to demonstrate at your next big event – the burning question is 'Now what? How am I going to fill these spaces?'.
If you're in the initial stages of organising an equine event, you're looking for tips and tricks to help make your next one a huge hit or you want to break into the world of equine demos and clinics, there are a few things you should consider before, during and after your event to ensure you gain maximum exposure and reach your desired audience.
Understand your target audience
What is your event? Is it a dressage clinic, an equine healing workshop, a Monty Roberts style demonstration, a showjumping competition, an equine massage workshop, a cross country clinic, a positive reinforcement demonstration, a behavioural workshop, or a charity fun ride?
Depending on the nature of your event, you will probably already have a specific target audience; for example, people interested in show jumping may have different expectations to those who are interested in a dressage clinic or those in need of behavioural expertise for their horse. Where can you find these people? I.e. are they active in specific Facebook groups, can you target them in your local tack shop or perhaps further afield in a national or county show?
Once you know who your target audience is you will know how to reach them, why they will want to come to your event and what they want to learn about…
Make it really obvious – offer a solution to their problems!
What can your spectators and/or riders expect to learn or gain from your event? By this we mean tell your spectators exactly what they can expect to gain. What will they learn? Here's a short list to get you thinking:
A demo they can watch – they will learn how to overcome a particular issue.
An event they can perform/compete in – gain points and experience; prize money; fun; raise money for charity.
A shopping experience – they can sell their product to a huge audience; embark on a fun shopping spree; meet nutritionists and the professionals.
Bring their own horse – the horse will be worked on as a case study and they will learn invaluable skills and techniques
For example: Instead of marketing your event as an 'Amazing Horse Massage Workshop with so-and-so', use your imagination and really pin point exactly what people will gain from your event. Something along the lines of 'How to Help your Horse Recover Quickly' or 'Massage: The Key to Success' might be more compelling.
After all, so-and-so might be leading the demo but what does that even mean? Why will Barbara and her friend Emma benefit from their £65 entry fee? You need to persuade your audience that it's the best idea ever to part with their hard earned cash.
Stay in touch
Once your event is over, you need to keep in touch with previous visitors – sign them up to your newsletter, point them in the direction of your Facebook and Twitter pages. Make it as easy as possible for you to reconnect with them, sign them up to the next event and share live updates on what's happening and what to expect.
If you'd like help on how to successfully market your upcoming equine event, contact us today by clicking here or giving us a call on 01480 459087.