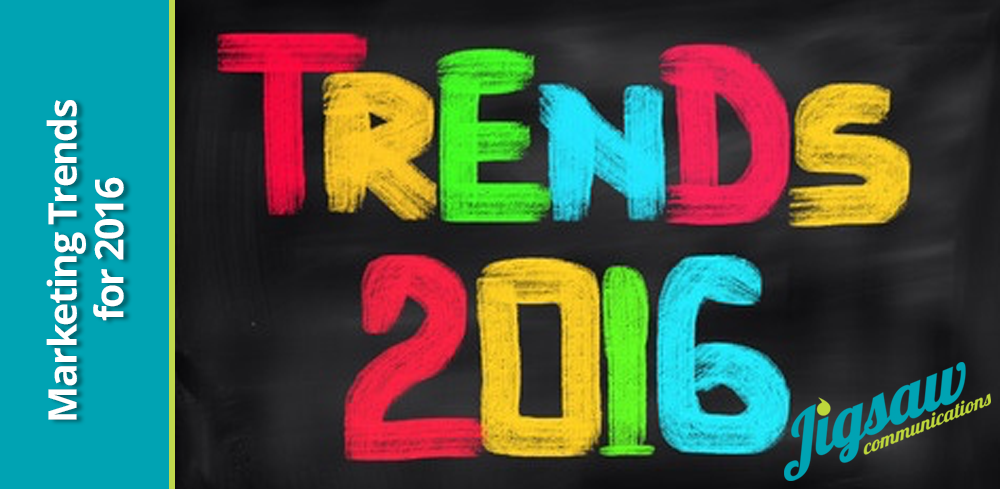 With 2016 well and truly here, we thought we'd take a look at the marketing trends to watch out for this year so that you and your business are always one step ahead of the game.
 Mobile technology
Marketing has changed dramatically over the years and now, more than ever, it's important that all of your advertising is streamed directly to people on the move. Gone are the days when people sat down at their desktop computers in the evening to explore the world wide web; instead, consumers are just a click away at all times thanks to mobile phone technology. If your marketing material isn't optimised for mobile phones and tablets, you could find it far less effective.
Accessibility is key
If you're not continuously being presented to your key target markets, the chances are they'll buy from your competitors instead. As consumers explore new formats and social platforms, businesses must follow. For example, Snapchat is a relatively new social platform which is widely misunderstood, and as a result many businesses are missing out on its potential. Many high profile businesses and news services are beginning to flock to Snapchat thanks to the ease of sharing important messages, special offers and product launches directly to consumers' phones without the need for them to go searching for it.
Time to become transparent
The advent of social media has made transparency in business ever more important as consumers have the power to not only instantly contact you from anywhere in the world, but also to air any complaints or success stories they might have. This means if your business isn't 100% transparent, it could be public knowledge within a matter of hours.
Aim for the bullseye
Not only is social media highly successful when it comes to building brand awareness, it's a great way of specifically targeting key target markets. Personalised data driven marketing (that is, marketing that focusses in on individuals who fit into a particular category by age, gender, location, likes, dislikes, etc) is becoming a highly important and successful tool to reach people who may benefit, or be particularly interested in your product or service, without spending money on reaching those who will have little or no interest.
 'Word of mouth' is becoming 'strike of keyboard'
Whilst social media is a fast-growing area of business, we mustn't forget the power of SEO. If a consumer has discovered your advertising material somewhere, whether it be digital or not, the chances are that if they're interested in your product or service they will use a search engine to find your website and further marketing material. Whilst an optimised website and well-written marketing content goes a long way to aiding your search engine ranking, consumer-created content is also becoming a key part of any successful SEO strategy. Just the same way as good reviews spread fast through word of mouth, the internet readily provides consumers with the opportunity to share their experiences and opinions instantly and to a worldwide audience. These reviews, whether good or bad, are becoming linked to your business through third party review websites, all of which could help, or hinder, your SEO.
As we enter 2016 with new plans and strategies, make sure you become more innovative, tech savvy and focus heavily on content creation that's specifically targeted towards your customers' individual needs, wants and desires, and you'll soon see your customer base growing successfully throughout the year and beyond!